LIMITED 50% SALE! 10 of 50 Packages Left
✨ 60 min Treatment
✨ Get 10+ Shades Whiter
✨ Free Pre & Post Whitening ($99)
✨ Buy Now, User Later

I was skeptical about trying the Nulife teeth whitening program because of the price point, but I took the plunge anyway. Super happy I did because the results are so amazing and I feel I really got my money's worth! The Nulife team was attentive and meticulous with their application and throughout the treatment. I would absolutely recommend the teeth whitening treatment with Nulife Laser and Wellness Clinic.

My teeth were gross because of the years of smoking and drinking coffee (generally instead of water). Once I completed the stop smoking program and stayed smoke free for 6+months, I wanted to undo the years of abuse on my teeth. They managed to make a difference of 14 shades whiter! Almost unbelievable, but I am a believer in what this clinic can do. 2 for 2 Win in my books!

Teeth whitening treatment was top notch. Just do it, you won't regret it!

Shout out to the Nulife Team for making my teeth 13 shades lighter than when I came in! I now feel like my smile is INSTA ready, and I don't have to edit the picture before posting now.
SUMMER Sale %50 OFF 41 of 50 Packages Left
✨ 60 min Treatment
✨ Get 10+ Shades Whiter
✨ Free Pre & Post Whitening ($99)
✨ Buy Now, Use Later
Get The Smile You've Always Wanted
Your smile has been voted the number one facial feature that people remember the most. Get your teeth 4-12 shades whiter with minimal to no sensitivity with the #1 Rated Teeth Whitening System in Toronto!
You take pleasure in your coffee, tea, cigarettes, and red wine, but regrettably, all of those excellent things have negative side effects.  As a result, your once white teeth have become a severe shade of yellow.
Your choices are:
1. Pay a lot of money to get your teeth whitened at the dentist, OR..
2. Use a gradual whitening kit or strip at home.
You've probably tried the latter, only to be left with extreme sensitivity and outcomes that are little visible.
NuLife Teeth Whitening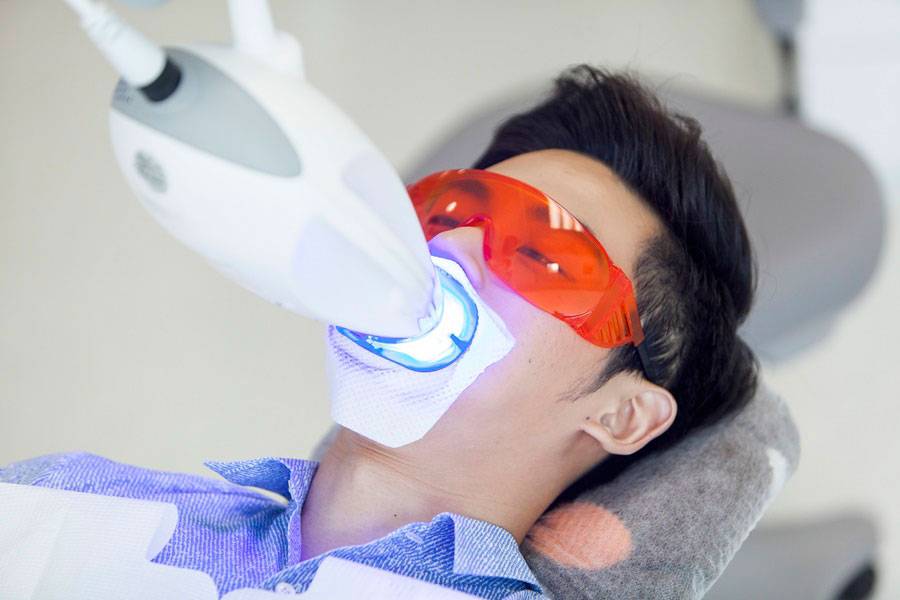 Until a couple of years ago, only dentist could perform teeth whitening treatments in Toronto using the "Zoom Teeth Whitening System".
Today, all teeth whitening systems, with the exception of those containing fluoride, are considered cosmetic, non-invasive dental procedures approved by the FDA and Health Canada.
Our Professional Laser Teeth Whitening is an easy fast and non-invasive cosmetic treatment producing immediate results.
How it Works
 NuLife Teeth Whitening System uses state-of-the-art technology in combination with the highest quality professional dental grade whitening agents to remove surface and/or subsurface stains from eating, drinking and smoking that leaves stains on or in the tooth enamel.
The Teeth Whitening technology does not produce heat, but produces a blue/red light that triggers the whitening agents to enter the tooth enamel and lifts the stains.
The whitening gel is specially formulated to improve the aesthetic of the tooth.  We only use, approved professional dental grade gel and top grade equipment.
Our gel is powerful, efficient and safe.

Remove Ugly Stains on Teeth

Reduce Time Needed to Whiten Teeth

Teeth Remain Whiter Longer

Perfect for Red Wine, Coffee and Tea Drinkers

Made with Safe, Premium Ingredients

Endorsed by Many of America's Top Dentists
Pre-whitening Swab treatment is offered to optimize results and comfort before your use of our proprietary teeth whitening gel.
One of the most common complaints about teeth whitening is dentinal hypersensitivity after whitening.  The reason for this is simple: the teeth whitening gels de-hydrate the enamel, so when the teeth re-hydrate naturally in the first 24 hours some people can have sensitivity.
Pre whitening swabs are quite innovative. The dental liquid contained inside penetrates inside the enamel rods to pre-hydrate the teeth to prevent or minimize post dentinal sensitivity.
The anionic foaming agents, aqueous cleaning technology also acts as a stain remover prior to whitening to optimize whitening results.
WHEN YOU ARRIVE
 STEP 1   You will be greeted by one of our friendly Staff.
STEP 2  You will be given the treatment info & consent form for you to read over and sign, confirming that you agree to proceed.
STEP 3   The Staff will go through everything with you and answer any questions you may have.
STEP 4   You can sit back and relax. The cheek retractor is inserted to take a tooth shade measurement.
STEP 5   We will apply a PRE-WHITENING SWAB to optimize results before your teeth whitening session.
        This targets surfaces staining and helps prevent sensitivity during whitening
STEP 6  The whitening gel is applied and the laser teeth whitening system activated, which initiates the first 15-25 minute session.
STEP 7  After the first session is completed, you rinse and a new layer of tooth whitening gel is applied to start the second 15-25 minute session.
STEP 8  Repeat step 6 to complete the third session.
STEP 9  The cheek retractor is then removed.
STEP 10  Post whitening, complete final rinse & see your final results in mirror.
STEP 11  After Care Options are reviewed with you.
This treatment typically whitens teeth 6-12 shades and can be complimented with our aftercare kits to maximize your results.
NOTE* For those of you with stubborn stains acquired with age or personal habits, a 2nd treatment or take home kit may be required to achieve optimal results.
AFTER CARE NOTES
For the following 24 hours After Treatment you must:
Avoid any dark staining drinks like Tea, Coffee, Red Wine, colored soft drink or alcoholic drinks and fruit juice.
Avoid all dark staining foods like soy sauce, red meat, chocolate and all fruit except bananas.
Avoid any foods or drinks that would leave a stain on a white shirt.
No Smoking for 24 hours, smoking a cigarette within the first 24 Hours will stain your teeth
Moderate use of electronic cigarettes is OK.
Avoid colored toothpaste (red or blue) or Mouthwashfor 24 hours.
WHAT FOOD AND DRINKS CAN I HAVE DURING THE 24 HOURS?
Here is a list of clear drinks and 'white foods' that are perfectly fine for eating and drinking after a treatment.
Food

Skinless chicken/turkey (minus the fat)
White fish
White rice
White pasta
White cheese
Cauliflower
White onion
Egg whites
Peeled potatoes cooked to your liking
Crustless white bread
Colour free cereal
Bananas
Plain or vanilla yogurt
Drink

Still / sparkling water
Tonic/soda water
White lemonade
Skimmed milk
Clear coconut water (not milk!)
Clear alcohol mixed with clear mixers (gin and tonic, vodka and soda etc)